UTP CAT.6 CABLE
Model Manager: Md. Sarowar Hossain (42329)


APPLICATION
UTP CAT. 6 cables are mostly used for LAN networks. They can be used for voice, low-speed data, high-speed data, audio and paging systems and building automation and control systems for frequencies up to 200 MHz. It can be used in both the horizontal and backbone cabling subsystems. Specifications checked up to 300 MHz.

STANDARD
IEC 11801, BS EN 50288


- 99.99% Pure Copper
- Low Attenuation & Cross-talk
- Low Structural Loss
- High Insulation Resistance
- Lead free Sheathing
- Environment Friendly


CONSTRUCTION
1. Conductor: Solid Plain annealed Copper to ASTM B3
2. Insulation: High Density Polyethylene (HDPE) to EN 50290-2-23
3. Star Separator:Polyethylene (PE)
4. Sheath: FR-PVC, Grade-TM51 to EN 50290-2-22

COLOUR
Insulated Core: W-Bl, W-Or, W-Br, W-Gr
Sheath : Grey, Sky-blue & Orange
Colour can be changed as per customer requirement.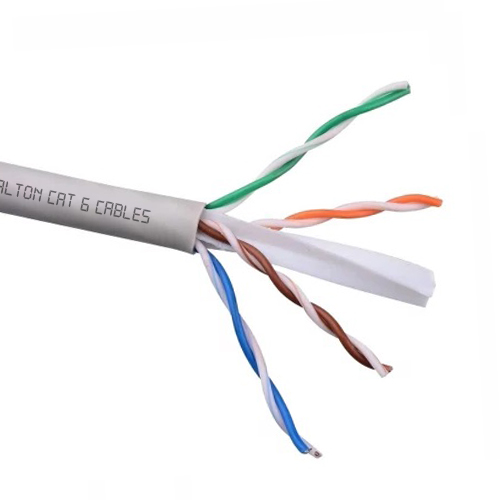 PHYSICAL DATA
Number of
pair x Size
Number & diameter
of wire
Approx.
Core diameter
Nominal thickness
of sheath
Approx. Overall diameter
Approx. weight
of cable
no. x AWG
no./mm
mm
mm
mm
Kg/Km
4x2x23 AWG
1/0.57
1.0
0.7
6.50
37
TECHNICAL DATA
Max. Conductor
resistance
Max.
ring resistance
Max.
mutual capacitance
Min. Insulation resistance
Standard
impedance
Min. bending
radius
ohm/km
ohm/100m
pF/100m
M.ohm.km
ohm
mm
74.74
14.5
48.0
5000
100 ±5
15
TRANSMISSION SPECIFICATION
Frequency
Attenuation Minimum
value of
EN 50288-3-1
NEXT Minimum
value of
EN 50288-3-1
PS NEXT Minimum
value of
EN 50288-3-1
ELFEXT Minimum value of
EN 50288-3-1
PS ELFEXT Minimum value of
EN 50288-3-1
Return loss
MHz
dB/100m
dB
dB
dB/100m
dB/100m
dB
1
2.10
66.00
64.00
66.00
64.00
-
10
6.00
59.30
57.30
50.00
47.00
25.00
16
7.60
56.20
54.20
45.90
43.00
25.00
31.25
10.80
51.90
49.90
40.10
37.10
23.60
62.5
15.50
47.40
45.40
34.10
31.10
21.50
100
19.90
44.30
42.30
30.00
27.00
20.10
155
25.30
41.40
39.40
26.20
23.20
18.80
200
29.10
39.80
37.80
24.00
21.00
18.00
250
33.00
38.30
36.30
22.00
19.00
17.30