WPCS-DS810 (40KG)
- Simple operation and steady performance
- Max. capacity: 40 Kg
- Division: 1g
- Power supply: AC 220V ~ 50 Hz
​
Max. capacity: 200 gram to 40 Kg
Division: 1g
Battery: 6 V, 4 Ah
Power supply: AC 220V ~ 50 Hz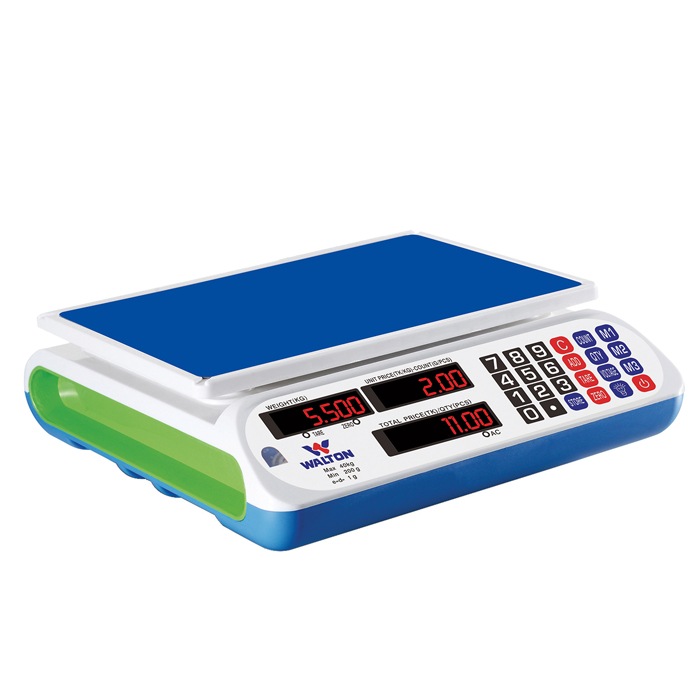 Warranty Information:
- Main Parts: 2 Years
- Spare Parts:
6 Month
s
- After Sales Service: 2 Year
s
- N:B- Battery is out of warranty
Note: This warranty
does not cover any damage due to accident, electricity fault, natural causes or negligence. And Authority keeps the power to change, expend, correction, stop or cancel the
warranty
period without any prior notice.
- Body & Tray made by Plastic.
- SS Sheet attached with the tray top side. Dimension: 23.5cmX33cm
- Input: 100-240 VAC
- Output: DC 8.5V 0.4A
- Load cell model: Capacity - 40 kg
- Sealed Lead – Acid Rechargeable Battery 6v,4Ah
- Weight indicator window – 5 digits.
- Unit price indicator window – 5 digits.
- Total price indicator window –6 digits.
- Dedicated button for Display LED Brightness control
Simple operation & steady performance

Storage up to 3 unit price

Aesthetic stylish user friendly design.

High accuracy load cell.

LED display with brightness control.

Dedicated zero & tare buttons.

Both side LED display.

Works on both AC and built in rechargeable battery.